The ProCap is designed for the individual or organisation wanting to create their own supplements at home or test and develop new concepts in the early stages of R&D.
The ProCap is able to produce batches of 120 #00 capsules at a time.
It's now more affordable than ever to take your ideas from just ideas to real capsules that can be tested and improved upon or even sold.
If you have at least one project you've been on the fence about starting, the ProCap is the tool that allows you to get started without investing thousands and without spending your valuable time learning how to use a more complicated machine.
Connect with Our Team
If you have a question or would like more details on the ProCap Capsule Filler, please complete the form below and someone from our team will be in touch with you soon.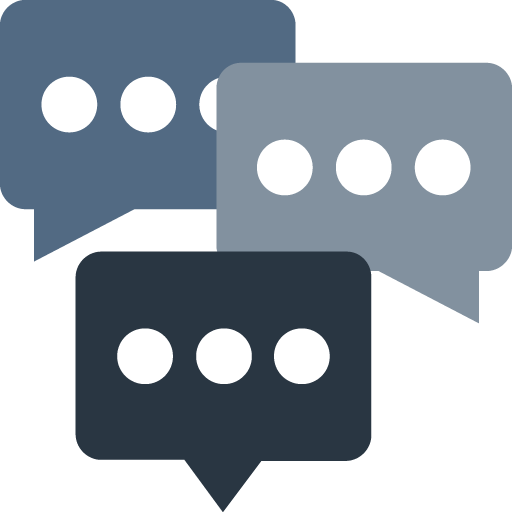 Main Benefits Of The ProCap
Up To 4 Months Worth Of Capsules In Minutes - If you take one capsule per day you'll produce 4 months worth of capsules in just 4 minutes.
Fills Capsule Size #00 - Room for around 735mg of the active ingredient of your choice per capsule. Full specifications can be found in Capsule Size Chart
Cost Effective And Free To Run - There are no running costs with the ProCap and it is just a fraction of the price of a high output capsule filler.
Training And Support Provided - If you do find yourself stuck you can always give us a call. We have capsule experts ready to help you problem solve in 3 offices worldwide.
Made From Certified Food Grade Plastic That Is BPA Free - To prevent plastic seeping into your capsules.
Easy To Clean And Dishwasher Safe - To save you time so that you can focus on more important things.
Designed To Produce Consistent Results And Reduce Waste Due The ProCap's Construction - So that you get the most out of your money and each capsule has the same effect on you or your customers' body.
Can Be Used With Vegetarian Or Regular Capsules - To give you or your customers as much control as possible as to what goes into you or their bodies.
Can Be Used With Vitamins, Herbs, Pharmaceuticals Or Any Kind Of Powders - So that you can test and craft just about any capsules you'd like.
How Easy To Use Is The ProCap?
The ProCap manual capsule filler is so easy to use because of its simplistic design. The ProCap comes with full instructions in 10 languages and along with our online video archive of tutorials and how-tos. With these resources and our customer support in case you do get stuck, you'll be filling your own capsules practically the moment you receive your machine.
To see how easy to use the ProCap manual capsule filling machine is, we are preparing a manual video for you, stay tuned it will be released any minute now!
Why Should You Own A ProCap?
Entrepreneurs
One of the reasons our VICE Handheld Tablet Press has been so successful (Tablet Press equivalent to the ProCap) is because it allows it's owners to get their ideas into the real world so quickly and affordably.
If you look at most successful entrepreneurs, it's very rare that their first project is a success. The difference is they do not get discouraged and stop there, they learn from it and try something else.
Owning a ProCap means for the rest of your life anytime an idea comes into your head you can without additional investment get that idea into the real world.
From there you can test to see if it works and give it to friends to try. You can also create listings on eBay and Amazon for very little money and see if the world is interested in your idea. If you get sales, you know you have a winning formula. Many of our customers such as Oxford Vitality & Bite that grew into successful businesses started this way.
The ProCap is essentially a tool to test what works. Whether that be testing the market for the next best selling product or testing the science behind your body and getting optimal performance.
Health & Fitness Enthusiasts
You can save up to 58% on monthly supplement spend with the small investment of a ProCap.
Making your supplements yourself you know exactly what you are putting into your body!
Capsules made by large manufacturers may contain low-quality fillers and ingredients which will not help you progress towards your goal. If you are serious about your training, you want to know exactly what you are putting into your body so that you can always be optimising your supplement intake. It also completely eliminates the possibility of consuming a banned substance if you are a professional athlete.
Research & Development Users
The biggest problems with R&D are time and money. The ProCap hand operated capsule filling machine tackles both of those issues by giving you the ability to make capsules 120 in just minutes for just the cost of the raw materials.
You don't have to wait for contractors or need to spend tens of thousands on expensive machinery to get something ready for product testing or marketing research. You can find out if your product has potential without the wait and without the costs.
The ProCap is fully FDA and MHRA compliant so that it can be used in any food or environment and keep you and your business protected.
What To Expect
How We Can Help You
At LFA we spent the last 10 years serving fitness individuals, entrepreneurs and research and development departments in achieving their goals. Many of our customers such as Bite and Oxford Vitality have gone on to achieve theirs and we believe we can help you do the same.
Whether your goal is to lose weight, find a product worth building a business around or finding a formula that can change the world, we believe we can help you achieve your goal.
Guarantee & Shipping
Life-lasting warranty!
We've designed the ProCap ourselves and we have built it to last. If anything ever breaks or goes wrong, we will send you a new one for free.
We ship the ProCap from our offices in the UK, US or Taiwan depending which is closest to you so that it arrives as quickly and safely as possible. The ProCap is dispatched same or next day depending on the time of your order.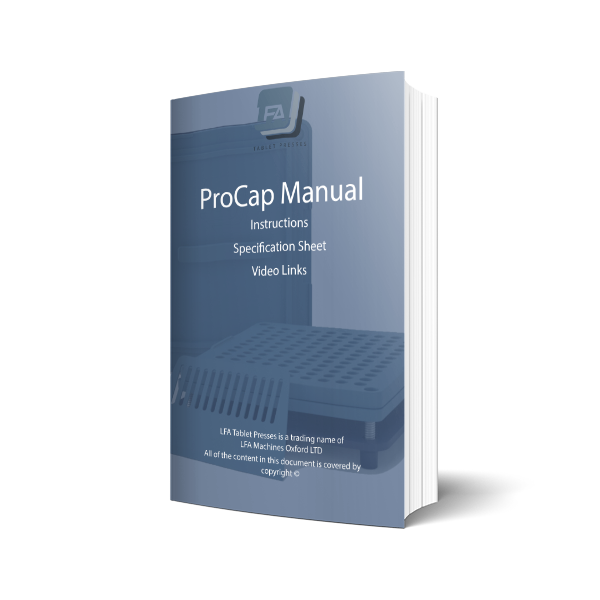 Download the ProCap Manual For Free
Get the manual today for free and learn how to use it before it arrives. Please also select from the drop down which best describes you so that we can send you only the most relevant information.
ProCap Dimensions
| Measurement | Value |
| --- | --- |
| Length | 200mm / 7.8in |
| Width | 170mm / 6.7in |
| Height | 85mm / 3.3in |
| Weight | 877g / 1.9lbs |
In Box Dimensions
| Measurement | Value |
| --- | --- |
| Length | 220mm / 8.6in |
| Width | 195mm / 7.6in |
| Height | 10mm / 0.4in |
| Weight | 1220g / 2.7lbs |
I was unable to successfully press a tablet on my desktop/rotary press, is this my next option?
Yes, this would be a great next step. Because of the way that the capsule filler works it will be able to overcome some of the problems tablet presses can face, especially: Friability issues, capping, not binding, laminating and flowing issues.
If in doubt, get in touch and we can test your product on one of our machines: https://www.lfacapsulefillers.com/contact/
What are the Safety features on the FACF? Can extra safety features be added?
The FACF is an extremely safe machine. It has perspex doors that stop the operator from being able to come into contact with any of the moving parts while the machine is in operation.
All of the doors have sensors so that if opened the machine will automatically stop. On top of this, the machine has an emergency push stop which can be used when the operator is working inside the machine.